Celebrate a Bite of Fruit Ninja in Every Game
Play any of our games below this month for juicy surprises.
Fruit Ninja: Five Fruitful Years
Watch the creators of Fruit Ninja discuss the game's development in a revealing behind-the-scenes documentary.
The History of Fruit Ninja
We look back at 5 years of Fruit Ninja, from simple idea to world domination!
2010
An Idea is Born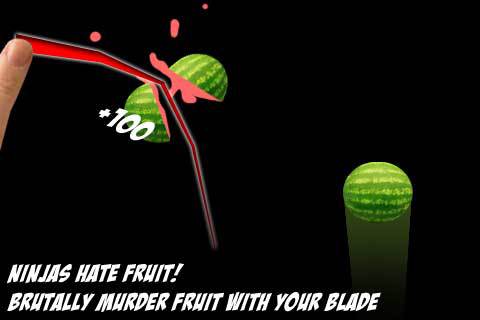 This is the original concept shot for Fruit Ninja. This is literally the very first piece of Fruit Ninja imagery ever created.
Luke Muscat, creator of Fruit Ninja, says the game was inspired by a late night infomercial for kitchen knives.
Try the very first version of Fruit Ninja. What's your high score?
Play the Flash Game*
*Requires Flash to play. Won't work on iOS devices.
FEB 2010
Development Begins
One month and four people. That's all it took to turn a simple idea into one of the most popular mobile games of all-time. If only it was that simple...
There was a lot riding on Fruit Ninja's success. Halfbrick's back was against the wall and it was essentially do or die for the studio. There's no telling what would've happened without it.
Rinal Deo, Halfbrick CFO
APR 2010
Fruit Ninja Released on Mobile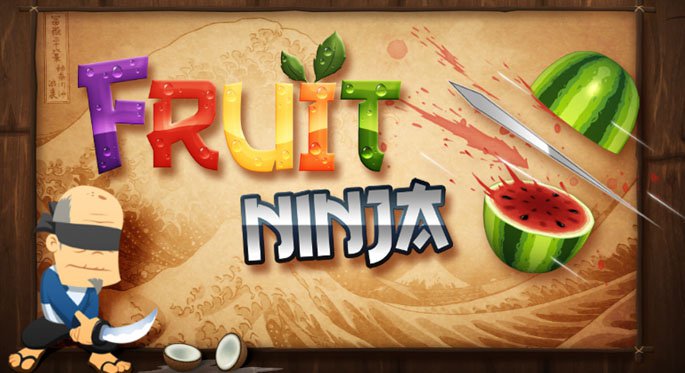 Fruit Ninja was released for iPhone on April 20th. A few months later, it made its way to iPad, Android, and Windows Phone.
Touchscreens were still novel in 2010 and nothing felt quite as satisfying or natural as slicing fruit with your fingers. This was only the beginning.
Watch the original trailer:
APR 2010
No Time to Celebrate
Fruit Ninja's overnight success took the entire studio by surprise, but there was no time to rest on our laurels.
Fruit Ninja had its first update less than one week after launch, introducing new fruit, a high score marker, and the ability to slice more than one fruit at a time. It was the first of many.
MAY 2010
The game is good, but how can we make it better?
This is the question that guided the Fruit Ninja team as they continued work on the game after release. There was plenty of room for improvement, and the team knew it.
People forget how basic the original version of Fruit Ninja really was. There was one blade, one background, and one game mode. It didn't even have combos! There's no way we'd get away with that in today's market.
James Schultz, Community Coordinator
MAY 2010
Zen Mode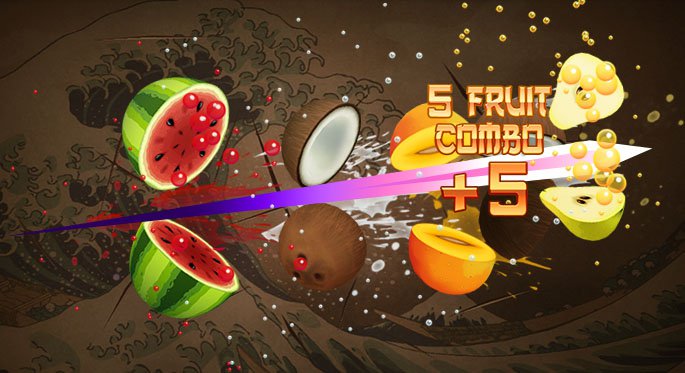 No bombs, no lives - just fruit! Zen Mode was created in direct response to player feedback. It was simple, accessible, and a great alternative to the pressures of Classic Mode.
NOV 2010
Arcade Mode
November, 2010 saw the addition of Arcade Mode, a faster and more intense take on the Fruit Ninja experience.
It was a huge hit with fans, introducing over-the-top power-ups, blitzes, and a more forgiving life system.
It took us longer to make Arcade Mode than the base game and all previous updates combined. Balancing the different power-ups was harder than it sounds, but the extra attention to detail was definitely worth it.
Stephen Last, original programmer
JUL 2010
1 Million Downloads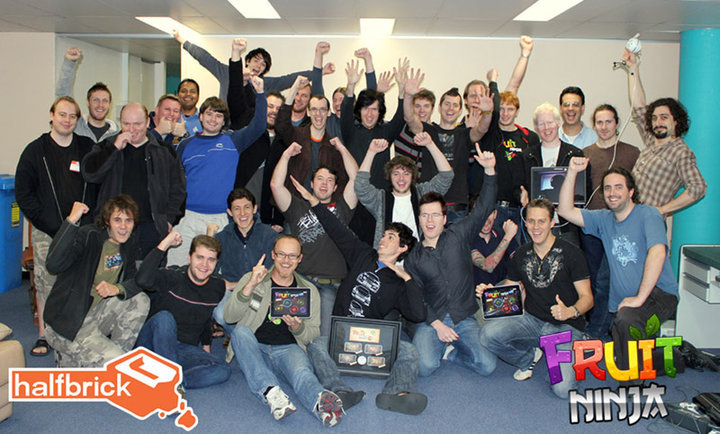 This photo was taken to celebrate 1 million sales of Fruit Ninja. Many of the people you see here are still at Halfbrick today!
DEC 2010
4 Million Downloads
By the end of 2010, the game was going strong with over 4 million downloads and glowing reviews. But the party was just getting started...
MAY 2011
Arcade Fans get their F(i)X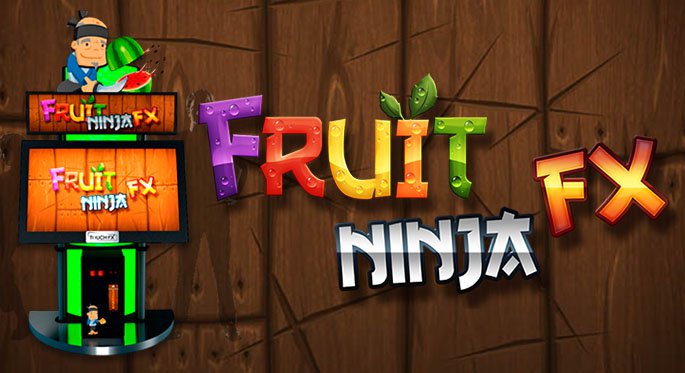 Fruit Ninja FX brought a blast of excitement to the arcade world with juicy fruit slicing action for 1-3 players. The arcade units, created by Adrenaline Amusements, are available to play in arcades across US and Europe.
JUN 2011
The Pomegranate Cometh
The pomegranate blasted its way into Classic and Arcade mode in June, allowing players to get even higher scores with its multi-slice madness and explosive capabilities. At the time, it was described as the "biggest and baddest fruit we've ever added."
Watch the Pomegranate trailer
AUG 2011
Fruit Ninja Kinect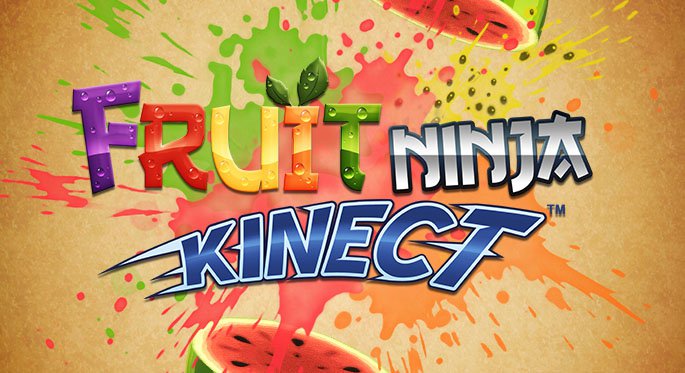 In August, Fruit Ninja Kinect made a splash on the Xbox 360. Kinect's motion tracking took fruit slicing to a whole new level of immersion. YOU became the ninja.
The game went on to win Casual Game of the Year at the 15th Annual Interactive Achievement Awards and was in the Top 10 best-selling Xbox Live Arcade games of all time.
Watch the Fruit Ninja Kinect trailer
2011
En Garde! Fruit Ninja: Puss In Boots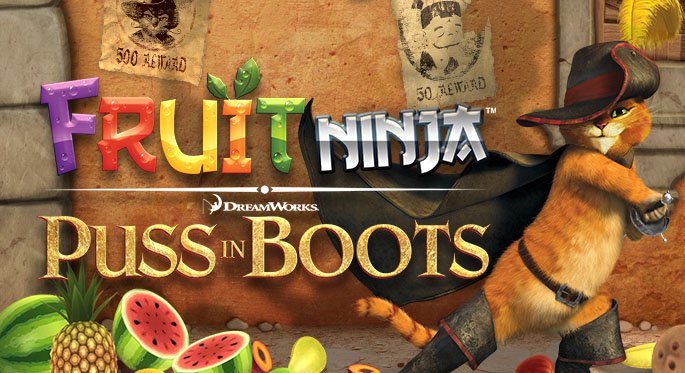 As a tie-in to the Puss In Boots movie, this standalone game featured Bandito mode, a series of mini-games, along with our #1 most requested addition – the tomato!
Watch the FN: Puss In Boots trailer
NOV 2011
A Fruit Frenzy on Facebook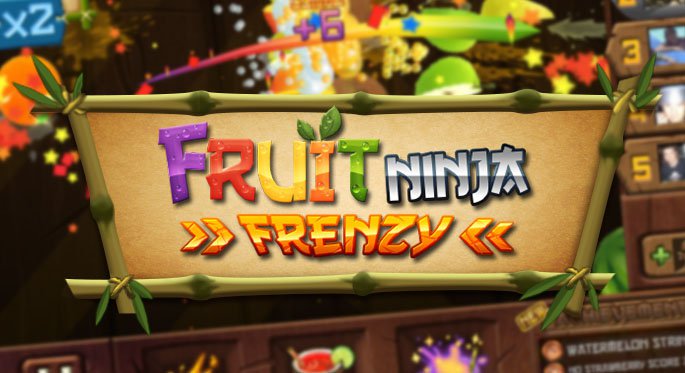 Fruit Ninja Frenzy was released exclusively on Facebook in late 2011. It featured a ton of cool new content, including Fruit Smoothies, a daily prize wheel and challenging your friends through Facebook.
Watch Fruit Ninja Frenzy gameplay
"The Facebook game is kind of what you play when your boss isn't looking, but the iPhone version you play on the train home."
Duncan Curtis, producer
MAY 2012
2nd Anniversary Update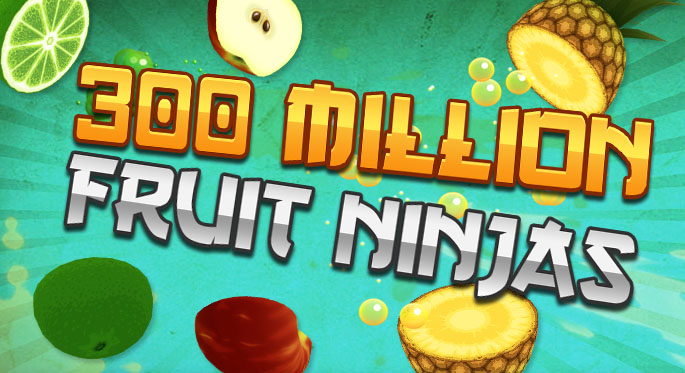 In May 2012, Fruit Ninja had been downloaded over 300 million times and was on 1 in every 3 iPhones in America.
To celebrate the 2 Year Anniversary of Fruit Ninja, the game got a major update with starfruit and new power-ups: bomb deflects, berry blasts, and peachy times. It also saw the introduction of two new characters: the travelling merchant Gutsu and his porky pal Truffles.
JUN 2012
Fruit Ninja hits the Road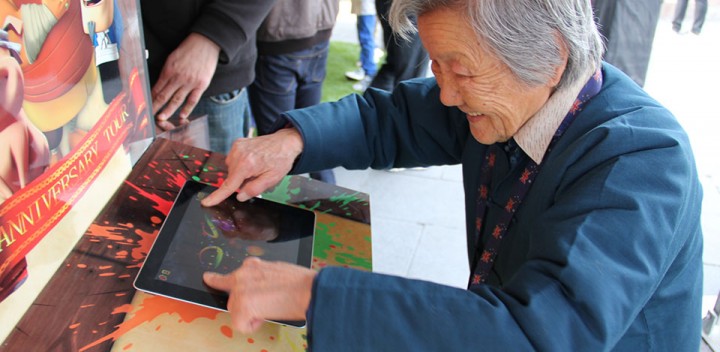 Two years on and still going strong, the Fruit Ninja team hit the road to find the best player in Australia. Thousands of people joined in to play Fruit Ninja on our tour of Sydney, Brisbane and Melbourne.
Three champions arose: Tashi Angmo (Sydney), Cong Su (Brisbane) and Jess Nunn (Melbourne). But there could only be one winner. Congratulations, Jess Nunn!
Watch the highlights:
JUN 2013
Fruit Ninja vs. Skittles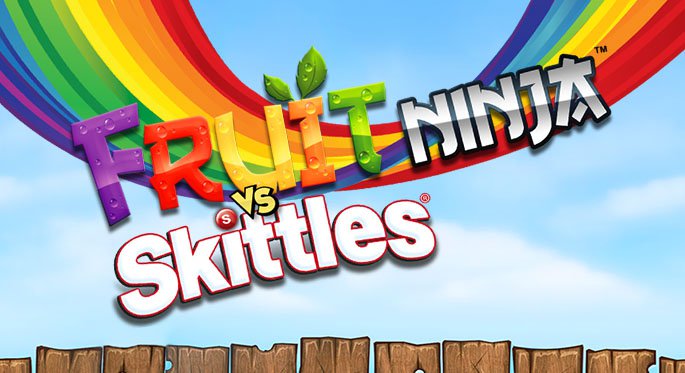 Fruit Ninja teamed up with Skittles in Europe for a promotional mini-game featuring colorful candies and blowfish. Wait, what?
Watch Fruit Ninja vs. Skittles gameplay
OCT 2014
New Gameplay and Characters
Sensei and Gutsu were joined by a gang of colorful new characters: Katsuro, Mari, Nobu and Han.
The original game also had a major overhaul. Previous cosmetic items - blades and dojos - now had a noticeable, strategic effect on the gameplay, letting you mix and match to discover the best combinations.
OCT 2014
Who you gonna call? Ghostbusters!
A new look and feel for the game was closely followed by a spooktacular Ghostbusters tie-in to celebrate the film's 30th anniversary. The free update added ghostly fruit, a new dojo with 'cross the streams' power-up, and the iconic Proton Pack.
OCT 2014
Fruit Ninja on Mythbusters
Is it harder or easier to play Fruit Ninja in real life? MythBusters ran real fruit and real swords through their paces. Then Jamie kicked things up a notch...
FEB 2015
Fruit Ninja Kinect 2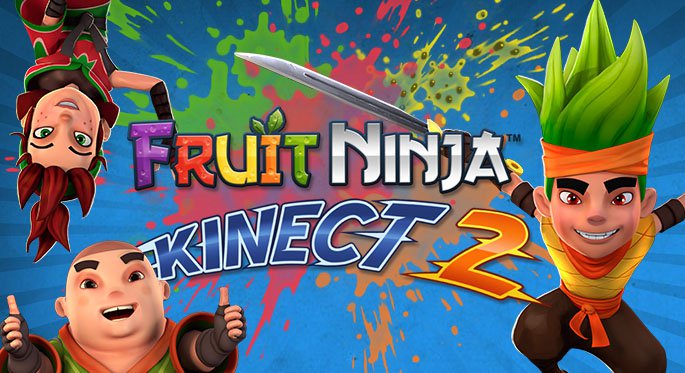 Fruit Ninja Kinect 2 came to Xbox One in March, 2015, kicking off with a global #ninjastyle campaign to honour weird and wonderful play styles from around the world.
With five new game modes, four-person multiplayer, and a new progression system, it quickly became the ultimate party game. Hi-yah!
MAY 2015
Fruit Ninja Gets Educational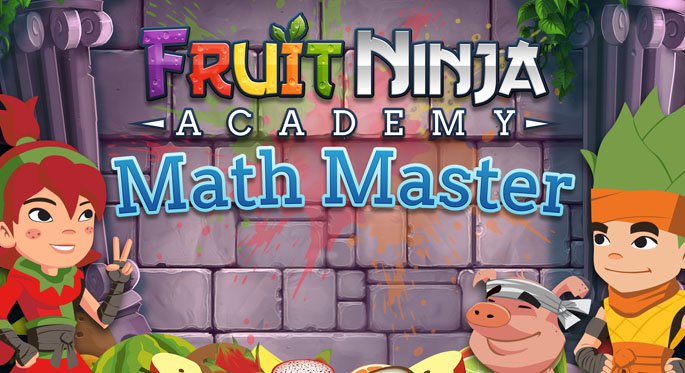 We know that kids of all ages love Fruit Ninja but we wanted to help them learn too. Developed by Krome studios, Math Master teaches all the basic math skills through mini-games and a cute cast of characters. It made for some very happy parents.
Watch the Math Master trailer
JUL 2015
5 Years and Going Strong!
Think you've seen everything Fruit Ninja has to offer? Think again! There's now a new Festival mode with 6 mini-games which earn you Golden Apples. Use those apples to enter the tournament to challenge the Fruit Ninjas at their own game!
Plus, you can try out the most powerful Fruit Ninja blade yet...
SOON
What's Next?
With 1 billion downloads and more sliced fruit than stars in our galaxy, it's been a fun and fruitful five years.
But we're not done yet! Here's a peek of some new characters. Any guess on where they'll appear?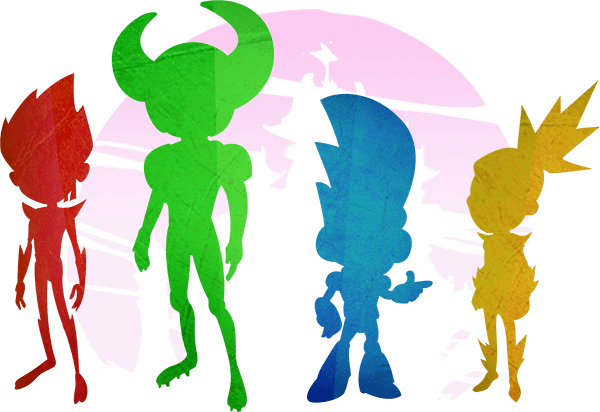 What Do You Love About Fruit Ninja?
Did you teach your cat to play Fruit Ninja? Have you tried being a real life Fruit Ninja? Share your cool stories with the hashtag:
#MyFruitNinja